Farm holidays with a duck pond
Small children like to feed ducks. You may find that you visit a farm duck pond fairly frequently and help the farmer fatten his ducks for Christmas.
In fact, children like water to splash around in. It doesn't matter if it's in at the seaside, in a paddling pool, swimming pool or river, children (and dogs) are likely to want to get wet.
It may be worth looking that bit harder for a farm holiday with a river nearby or with a fenced duck pond if you have very small children.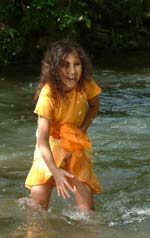 How many of us can still recall padlding in icy cold rivers and streams of trying to cross using stepping stones?
This is the stuff that memories are made of.
There is real fun in the countryside, it's not something that only resides at a theme park.
There is so much to see and do on a farm and in the country. A whole new world awaits.
Take your children for a farm holiday in our wonderful countryside and have a special self catering holiday with a difference.
Farm holidays in self catering cottages